Visit hotel's website

LOCATION
In the area of Porto Heli
Close to the cosmopolitan islands of Spetses and Hydra
0.1km of coastline
AREA SIZE
COMPOSITION
Amanzoe, a 38-pavilion hotel, 4 beach villas and spa
The Aman Beach Club
The Aman Villas, serviced by Amanzoe
DESIGN
Aman facilities masterplanned and designed by Ed Tuttle
ACCESS
A 20- minute helicopter flight from Athens airport, a 2-hour drive from Athens airport and a 2-hour ferry trip from Piraeus port
STATUS
Οur luxury resort, drawing its name from the Sanskrit derived word for 'peace', 'aman', and 'zoe', the Greek word for 'life'.
Project Overview
The 1st villa integrated Aman resort in Europe, recognized as probably the best luxury resort in the Med. Hotel currently consists of 42 pavilions and beach cabanas, offering the true Aman ultra-luxury experience to guests.
Moreover, Amanzoe offers a range of luxury residential properties, catering to a diverse range of travellers and buyers. It is engulfed by azure waters and protected coves, and in close proximity to ancient sites of cultural and archaeological interest and picturesque islands.
Τhe most exclusive development in Greece to host a range of high-end, masterplanned, leisure-integrated residential resorts, in a serene environment, with panoramic sea views.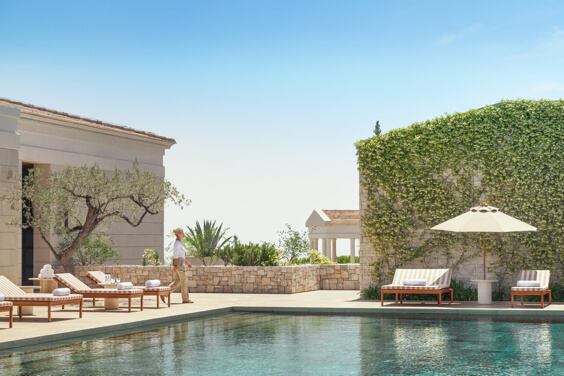 Gallery